Wednesday • 28.12.22 • 14:04
2 minutes for reading
Admin Pro Magento
Community manager
|
IT Delight
Pro Magento Community | 2022 Year in Review
Thank you to everyone who was with us this year!
In 2023, we will be preparing more and more content and events for you. But to begin with, we want to sum up this year.
Let's start with Magento updates!
Official Magento Release
In 2022, Magento underwent two big updates – from 2.4.3 to 2.4.4 and from 2.4.4. to 2.4.5.
Magento Open Source 2.4.4 and Adobe Commerce 2.4.4 released on April 12, 2022.
This version of Magento 2.4.4 included up to 250 quality fixes and improvements. It was in this version that support for PHP 8.1 and OpenSearch 1.2 began. This release fixes all the problems of the previous versions.
The release date of the latest versions of Magento Open Source 2.4.5 and Adobe Commerce 2.4.5 is August 9, 2022.
Magento Open Source 2.4.5 version is out in full swing with 290 quality fixes and enhancements. The latest Magento 2.4.5 commences with improvements to platform quality, GraphQL caching performance, payment methods, and accessibility.
Official Release Documents:
Pro Magento events in 2022
Our community has been around for over a year!
Therefore, I would like to summarize what we have already managed to organize and share with you a large selection of our content.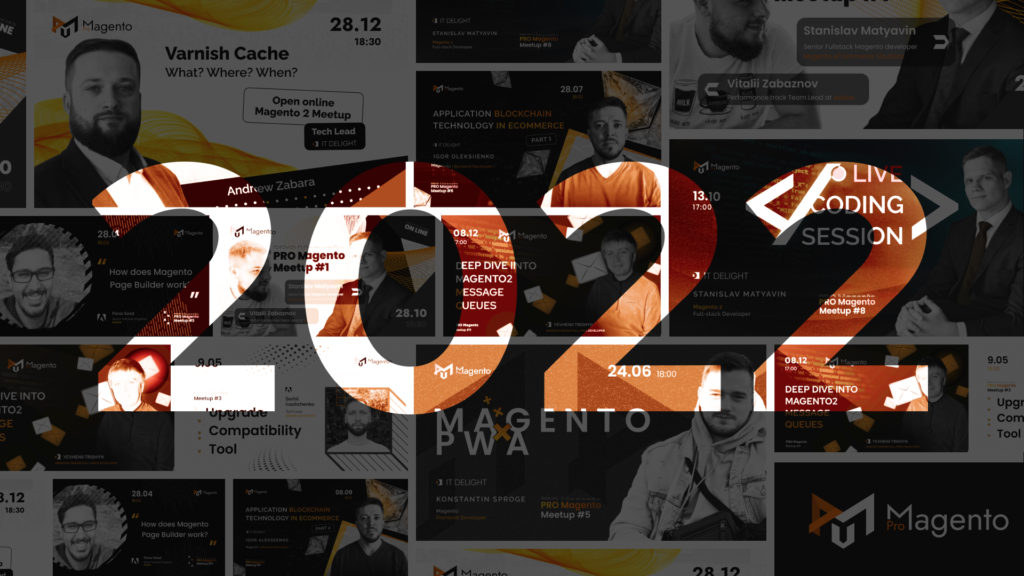 Our Pro Magento MeetUps and their records:
We also have a playlist of videos from our MagentoTalk.
Among them there are reports with no less interesting topics. Example:
Composition vs inheritance and the concept of coding
Entity manager
AWS
Creating a Theme for Magento 2
Tools used in Magento development
Magento 2 UI Components
Technical articles from the community in 2022
We also prepared and published various technical articles together with you.
Thank you to everyone who was with us in 2022.
We promise you even more useful content in 2023!
Wait for new announcements.
Back